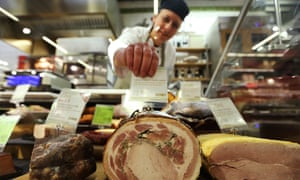 Marks & Spencer aims to tap into a food home delivery boom. Photograph: Bloomberg via Getty
Marks & Spencer has launched an online grocery service that will enable shoppers to have their dinner delivered to their front door within an hour.
The Guardian revealed in April M&S was working on an online food service, and on Friday the store launched trials in London and Woodley, near Reading.
The first trial is based at its Camden store in north London and offers home delivery within one- and two-hour slots within a three-mile radius. A limited range of ready meals including Thai green curry and pizzas can be delivered within an hour, but if shoppers want to add groceries to their baskets, delivery time is two hours.
The Reading store has a collection-only service with a two-hour turnaround for orders. Both trials are open only to members of M&S's Sparks loyalty scheme. The minimum order is £10.
M&S has been selling a selection of party food and alcohol on its website for some time, but this is the first time its wider grocery range, including staples such as bread and milk, have been available online. The number of lines on sale is 4,100.
"We have started two small food online trials with selected Sparks members as we explore what works for our customers," an M&S spokesman said.
John Mercer, a retail analyst at Fung Global Retail and Technology, said the retailer had chosen a model like UberEat's rather than the traditional route taken by the major supermarkets, which requires big basket sizes to be successful.
"I think it is sensible that M&S has held off until now because the major grocery retailers have found the economics of home delivery to be very costly," he said.
But the trial is tapping into a food home delivery boom as Britons increasingly use app-based services such as Deliveroo, Just Eat, UberEats to have meals delivered. There is no delivery charge for orders which are being handled by gig economy courier firm Gophr. An M&S spokeswoman said Gophr had been selected as its delivery partner following a "rigorous selection process".
M&S boss Steve Rowe concluded it could no longer ignore the fastest growing section of the UK's £180bn grocery market as new delivery services, such as AmazonFresh, which allows shoppers to order groceries at lunchtime and get the delivery in time for dinner, revolutionise the way Britain buys food.
The high-street store is different from other food retailers as it stocks just 7,000 products, compared with Tesco's 40,000. It also focuses on own-brand goods with only a limited number of big-name brands. It is not clear how the retailer would overcome these hurdles if it offered customers a full grocery outlet in the future.
"The economics of food online are not straightforward and it is not something that we are going to rush into until we have substantial customer insight and a better understanding of what is right for M&S and right for our customers," Rowe said earlier this year.
Source : https://www.theguardian.com/business/2017/sep/22/marks-spencer-launches-online-food-delivery-service